Club Contacts:
The MMM Free Flight Club is ALWAYS looking for those interested model airplane flyers that want a different challenge or just want to recreate those fun modeling experiences other than RC or Control Line.  Free Flight is a step into making airplanes fly by themselves with no control.  Learning this valuable technology is a wonderful experience.
April 18th & 19th – INDOOR AT THE "DOME" in Eager Arizona.
CLICK HERE FOR Flyer
June 8-12, 2015 – The AMA Indoor Nationals will be in Colorado Springs! 
We have a super deal for an indoor Nats hotel.  The Antlers Hilton in downtown Colorado Springs which  is just 6 blocks from the City Auditorium is offering us a special rate for their "standard" rooms for only $119 per night.
The AARP and AAA rates are $161/night.
This is a top rated hotel in the heart of a great city. The lobby bar is a great meeting place and Judge Baldwin's brew pub offers a selection of Colorado's top craft beers on tap plus great pub food.
This offer includes free self parking in the hotel's underground garage (a $20 per day savings), free Wi-Fi, and a $11 discount for the breakfast buffet.
For additional information of the Antlers check out the hotel's web site at  www.antlerscoloradosprings.hilton.com.
This is a limited time offer as June is a top tourist time in Colorado so this offer expires May 7.
You can book your reservations by calling the hotel's 800 number or call the hotel directly.
be sure to ask for the AMA Group when making your reservations.
Hotel direct number 719 955-5600
Hotel 800 number is 1-800-445-8667
Group is AMA
Offer expires May 7, 2015
We thank the Antlers for their sponsorship of the indoor Nats with this great offer.
Check Back,  for updates
2015 World Cup Contests !! 

The USA

Centennial

Cup July 10 and the New Zealand TUI Cup July 11
CLICK HERE FOR:
Flyer and entry form:  MMM14R2015flyerFinal
FAI World Cup Info:  NLFFWCUP15
For the Results, click here:  2014 Rocky Mountain Champs Results
LATEST EVENTS AND INFORMATION

(See Places to Stay in Header Bar)

Contest fees can be paid by Paypal…scroll waay down
UPCOMING EVENTS:
Indoor Flying Sessions -  Manitou High School Gym….

monitor the Yahoo web group for current event dates and see current 2015 Schedule in header bar above.
 The MMM Club at the field….free flight is "cool!"

Now, some of the frequently asked  questions about Free flight and what one can do to be part of it?

How does one join?

What are the dues?

 ( MMM dues to the club primarily defray the filed lease cost for a place to fly.) Joining the MMM Club is easy.  Dues are described in the  link and for younger flyers, is waived.  All one has to do is fill out the application blank from the pull down or click here:   2015MMMDuesRenewal
Where do you fly?  The MMM Club is fortunate to have one of the finest Free Flight Fields available.  It is leased from the Colorado State Land Board and hence their is responsibility involved.  The field is located approximately 11 miles east of E470 on Quincy Avenue in Aurora Colorado.  Details on accessing the field are available from the club contacts, however, the ability to fly on the field is subject to Land Board and Club Restrictions.
Can I come out to the field and watch?  We encourage spectators to come out to the field during our flying events and watch the activity.  One must first notify the contest director or one of the club officers.  The contacts are listed above.

I used to build models and I am

just getting back into the hobby. What should I do to catch up with the current trends?  Will someone help me learn to fly a free flight model?

  We are a club that encourages participation and are willing to provide what help is necessary to new and returning modelers who are showing an interest in Free Flight Modeling.

My son flies S/O or TSA models. Where are some club activities so that we can join in? 

The good news we mentor many S/O and TSA young flyers.  The GREAT news is our kids usually take honors in the S/O and TSA programs.  Our mentors are World Class and National winners.
MMMr's at the Southwest regional in Eloy Arizona…well done!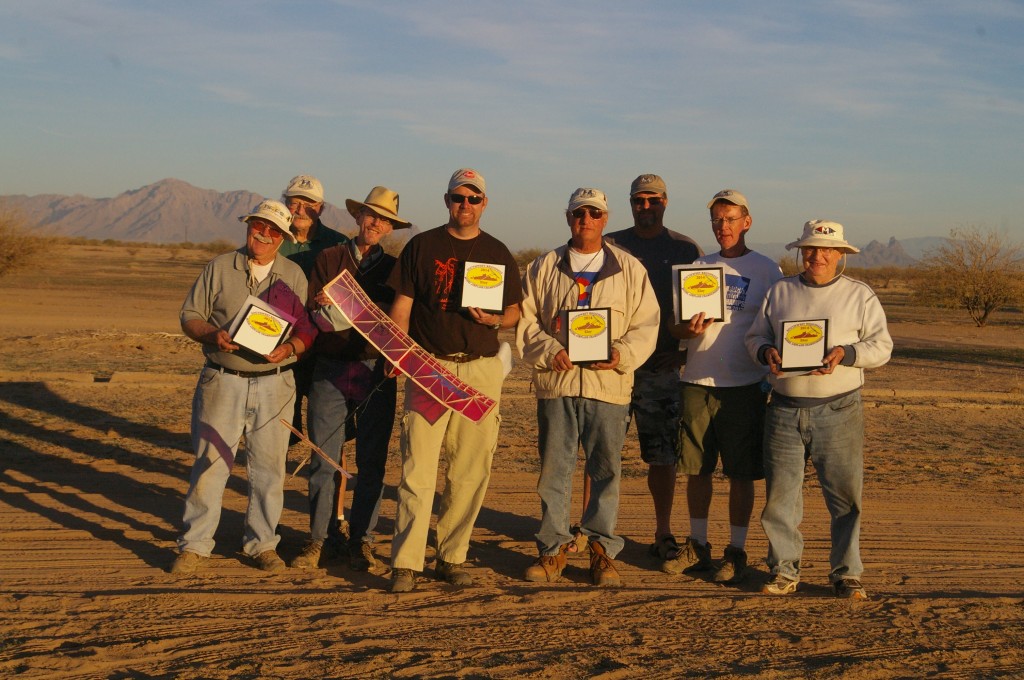 Left to Right: Jerry Murphy, Randy Reynolds, Jack Murphy, Don DeLoach (Grand Champ!), Rick Pangell, Todd Reynolds, Mark Covington, Ray Boyd…(where's Jace?)
What a good well equipped "FF flight line for two" looks like: (
Rick

and
Murph)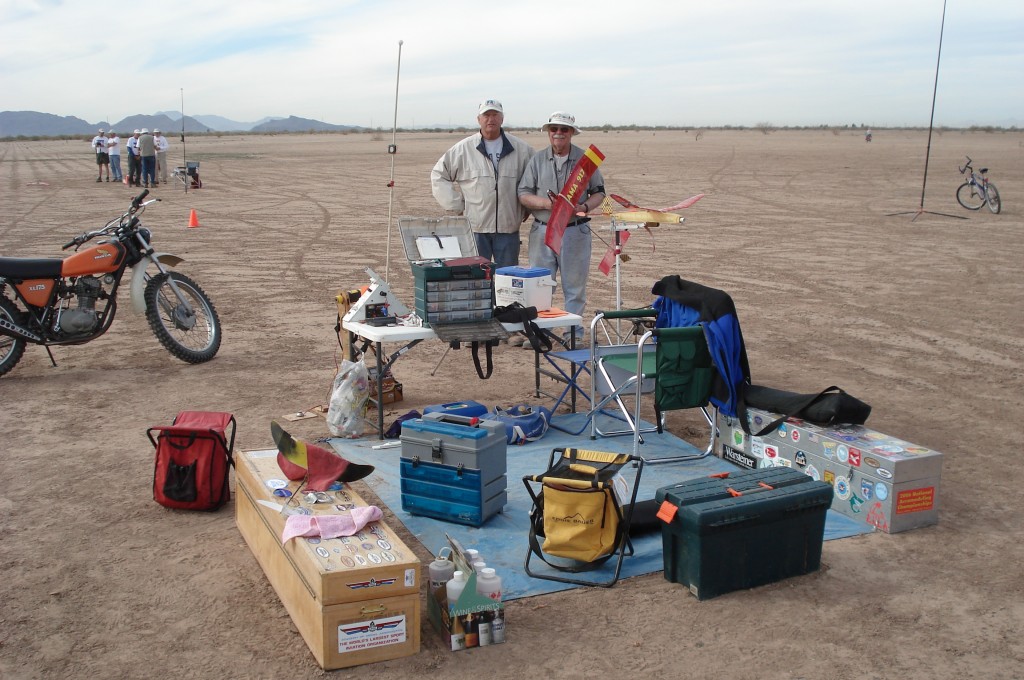 Pay your MMM Dues or Contest Fees with Paypal!
Log in to paypal.com
Click  on "Send Money" in the upper menu bar
In the "To" block, type in mmmffclub@gmail.com,  the amount, and click the button "Services"
In the next form where you confirm payment, in the Lower "Subject" and "Message" boxes state what the money is for… annual dues, entry fees and such.  When pre-entering a contest that needs event selection or similar, you still need to send in the pre-registration form to the Contest Directors.
Flyer and entry form: