Contacts:
MMM MONTHLY GET TOGETHER MTG!
Every Second Thursday at 7:00 PM, Dinner at the Castle Cafe in Castle Rock. Monitor the "groups.io" web group for info.
For Club and Newsletter info email:

themaxout@aol.com

Join our FF Club web group for current comment and chatter:

MMMFreeFlight+subscribe@groups.io
And… join the FAC Eaglerock Squadron for scale modeling fun at:

TBD

Join the National Free Flight Society at:

www.freeflight.org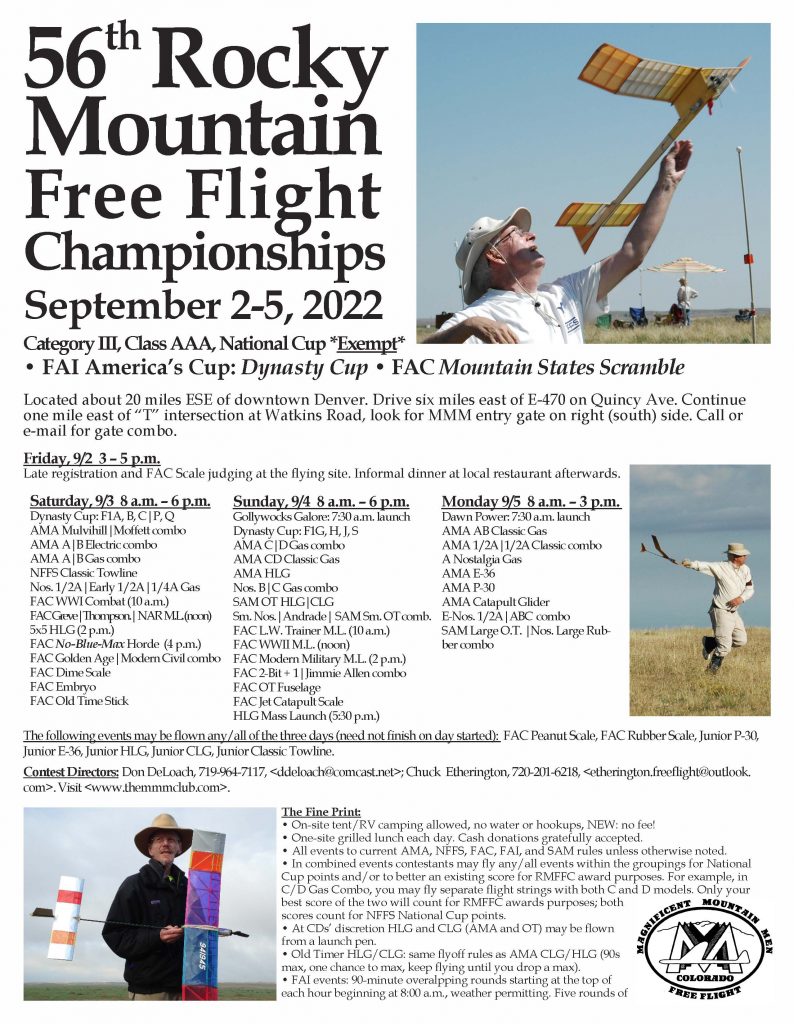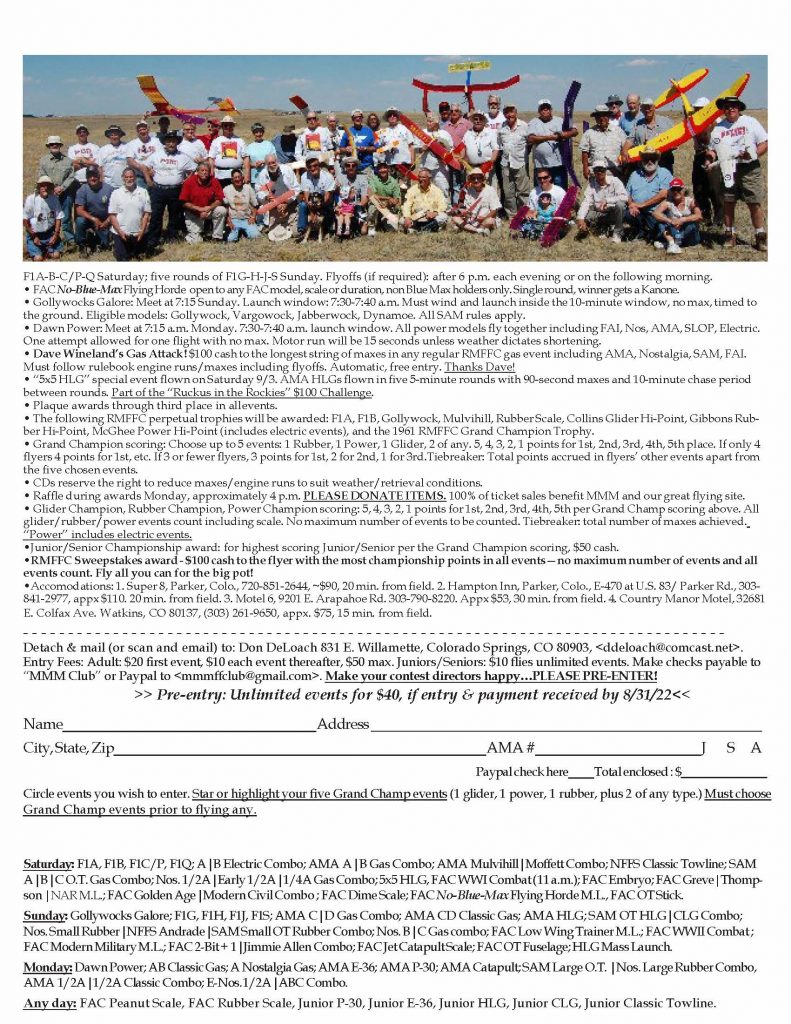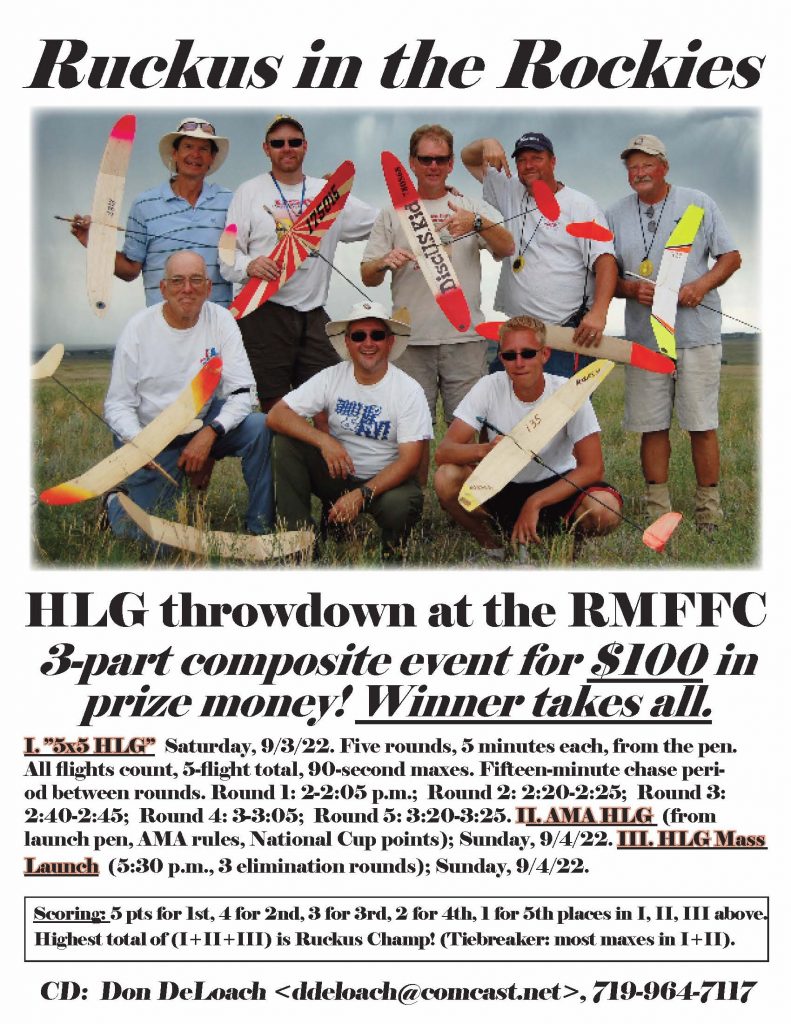 What we are about:
The MMM Free Flight Club is ALWAYS looking for those interested model airplane flyers that want a different challenge or just want to recreate those fun modeling experiences other than RC or Control Line. Free Flight is the original form of flying model aircraft and a step into making airplanes fly by themselves with no control. Learning this valuable technology is a wonderful experience.
We also support Educational Programs like STEM, TSA and S/O.
We are affiliated with the National Free flight Society (NFFS) at freeflight.org and the Academy of Model Aeronautics (AMA) at modelaircraft.org
Monitor the MMM Web Group for latest Info at:
MMMFreeFlight@groups.io
FAC Corner – *** FAC Squadron in the Rockies… the "Colorado Eaglerock Squadron, FAC"
Magnificent Mountain Men 2022 Flying Schedule
:
UPCOMING OUTDOOR EVENTS:
2022 MMM 14R Flyer and Entry Form – Click Below
| | |
| --- | --- |
| February Outdoor One-Off | TBD |
| CO Southern Region Sci Oly (Pueblo) | 26 Feb |
| Indoor at Manitou (Kids and invitees build & fly) | 13 Mar |
| March Outdoor One-Off | TBD |
| Pikes Peak Ceiling Climb | 27 March |
| CO State Sci Oly (UCCS) | 2 April |
| Round Valley Dome | 9-10 (11) |
| Scramble Rescheduled | 24 April May 1 |
| Scramble | 15 May |
| (Indoor NATS–Eagar, Arizona) | 24-28 May |
| Casino Cup (Wendover NV) | 18-19 June |
| Scramble | 26 June |
| 14-Rounder (Incl. July Scramble) | 8-10 July |
| (Outdoor NATS–Muncie, Indiana) | 25-29 July |
| Scramble | 7 Aug |
| RMFFC | 3-5 September |
| Scramble (Late Day Contest) | 25 September |
| Marion, KS | 1-2 Oct |
| US Team Selection Lost Hills | 10-16 Oct |
| Scramble | 16 October |
| Scramble (Frito Pie) | 6 November |
| Annual Meeting | 7 January 2023 |
Monitor MMMFreeFlight@groups.io and keep informed for latest updates flying dates and times too.
INDOOR FLYING:
Hi All, For those who don't know me I'm John Christensen. I am the new
Indoor Coordinator for the MMM club.
We have indoor flying dates to choose from at the Beth Eden gym at 2600 Wadsworth blvd. The gym will open up at 6:00 pm.
Contest Fees and Dues can be paid by Paypal…scroll waay down (up?)
FAI Licenses for USA
With the change in FAI licenses they are now only issued for USA flyers by the NAA, no longer the AMA, and through the NAA web site at
https://naa.aero/membership/fai-sporting-license
The AMA has helped some members go through this process, but you should go directly to the NAA site and do it your self
Field Notes:
FIELD CATTLE FENCING – ELECTRIC !!
New Gate Lock Procedures on the Lowry Range – Important !
Due to a new State Land Board policy, all lessees (e.g., Conoco Phillips, the Hunt Club, the grazing lessee, etc.) and MMM now have their own locks on the gates to the LowryRange.
There are many locks on the gate now, so you need to be extra careful that you DO NOT LOCK OUT another lock by bypassing it when you lock the gate. They should all be linked in series a continuous "chain" so that any lessee can open and close the gate with their lock. Locking out someone else is a sure way to get our lock cut and removed. It also antagonizes other lessees, and we can't afford to do that. Please make sure that any guests you invite to the field are aware of this. These things may be obvious to us, but they probably aren't to someone new to the field or who hasn't encountered multiple locks on a gate before.
If you have any questions about this, especially, if you're at the gate and are uncertain of what to do, or if you need the combination (which is new since last November) please call or text:
Pete McQuade, 719-433-5346.

Chuck Etherington, 720-201-6218

Don DeLoach, 719-964-7117
For security, we prefer not to give the combination over a widespread e-mail message or on the club website.
Check Back, for updates
The MMM Club at the field….free flight is "cool!"
Now, some of the frequently asked questions about Free flight and what one can do to be part of it?

How does one join?

What are the dues?

( MMM dues to the club primarily defray the field lease cost for a place to fly.) Joining the MMM Club is easy. Dues are described in the linknoted at the top and for younger flyers, is waived. .

The Club Flying Field

The MMM Club is fortunate to have one of the finest Free Flight Fields available. It is leased from the Colorado State Land Board and hence their is responsibility involved. The field is located east of E470 on Quincy Avenue in Aurora Colorado. Details on accessing the field are available from the club contacts listed above in "Gate Lock Procedures," however, the ability to fly on the field is subject to State Land Board and MMM Club Restrictions.

Field Use and Access

Current club members (AMA membership is required for membership) have 24/7 access to the field. Non club members with a valid AMA membership are welcome to fly on the field during club sponsored events.
Can I come out to the field and watch? We encourage spectators to come out to the field during our flying events and watch the activity. One must first notify the contest director or one of the club officers. The contacts are listed above in "Gate Lock Procedures."

I used to build models and I am

just getting back into the hobby. What should I do to catch up with the current trends? Will someone help me learn to fly a free flight model?

We are a club that encourages participation and are willing to provide what help is necessary to new and returning modelers who are showing an interest in Free Flight Modeling.

My child flies S/O or TSA models. Where are some club activities so that we can join in?

The good news we mentor many S/O and TSA young flyers. The GREAT news is our kids usually take honors in the S/O and TSA programs. Our mentors are World Class and National winners.
MMMr's at the Southwest regional in Eloy Arizona…well done!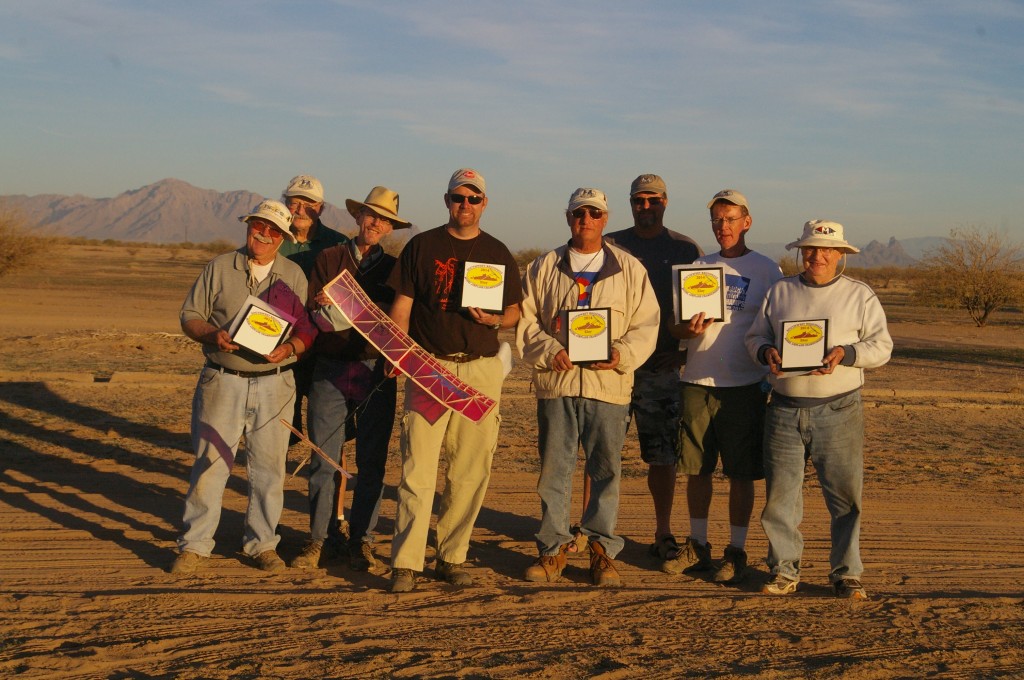 Left to Right: Jerry Murphy, Randy Reynolds, Jack Murphy, Don DeLoach (Grand Champ!), Rick Pangell, Todd Reynolds, Mark Covington, Ray Boyd…(where's Jace?)
What a good, well equipped "FF flight line for two" looks like: (
Rick

and
Murph). Note that the basics include a model and tool box with the rest of the "support" equipment being comfort items!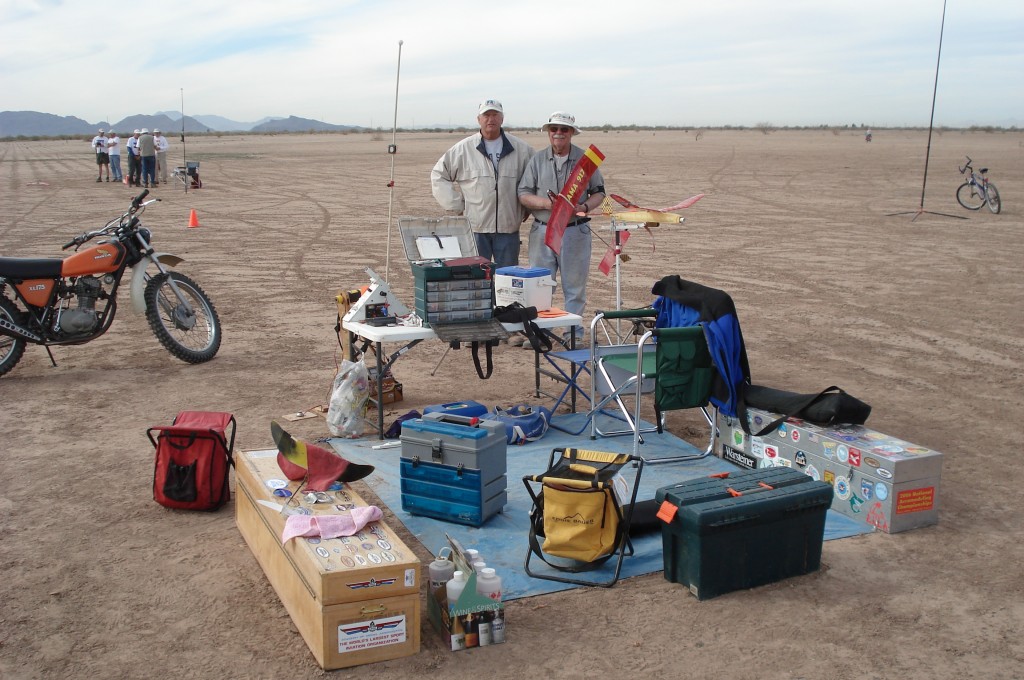 Pay your MMM Dues or Contest Fees with Paypal!
Log in to paypal.com
Click on "Send Money" in the upper menu bar
In the "To" block, type in mmmffclub@gmail.com, the amount, and click the button "Services"
In the next form where you confirm payment, in the Lower "Subject" and "Message" boxes state what the money is for… annual dues, entry fees and such. When pre-entering a contest that needs event selection or similar, you still need to send in the pre-registration form to the Contest Directors.